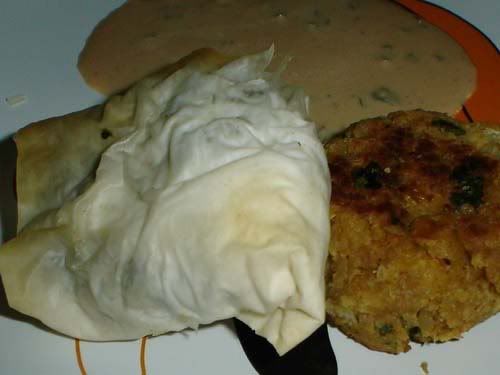 Spanikopita and Falafel wtih tahini sauce from Vegan with a Vengance

Saturday night we had
supercarrotand
sam16over for dinner.

Since our living/dining space is tiny, I decided a nice, informal finger food fest was in order. I had been dying to try making the VwaV spanikopita so I figured this was a good excuse. I was quite intimidated by the whole filo folding process. I have only used it one other time to make baklava for Chris years ago for Christmas right after we met. The sheets dry out really fast once they are exposed to air so I covered them with a damp towel while I was folding each morsel. I got one of these bad boys just for the occasion. Fizzle recommended it in the book! :-) I lucked out and found it at Marshalls and the funny part is that I was specifically looking for one. Since a hodge podge place like Marshalls is usually a hit and miss, I figured it was meant to be that I own one! You do have to pump it a lot [sorta like a Super Soaker] but it does do the job nicely!

The filling is a bit time consuming as well. Don't skip draining the tofu! I got two bunches of organic spinach from Whole Foods. I am always amazed at how much the leafy greens cook down. Between draining the tofu and chopping the spinach and fresh dill and cooking it down then letting that cool to room temperature, I'd make sure you have at least four hours set aside to do it all right. It really is worth it though! The final filling mixture is delicious! I let Chris try some and he said "What kind of cheese is in this?" No cheese! Just a damn good recipe that makes sure you don't miss the feta one single bit. I personally don't like feta that much anyways so no loss!

The book has three different ways to prepare the spanikopita and I was brave and tried the first option which was to fold them individually. Actually, I am pretty sure the second option is more tricky but the first one kept me plenty busy! The recipe makes an official assload of little spinachy triangles. I had to bake them on two seperate cookie sheets. While the spinach was cooling, I made the falafel since that has to sit in the fridge for 30 minutes once it's done mixing. I have been baking it lately instead of frying and it comes out great! Put them on a cookie sheet and bake at 350-375 for about 12 minutes on each side.

Having these two awesome dishes in one sitting has convinced me that they are soul mates. Best friends forever!