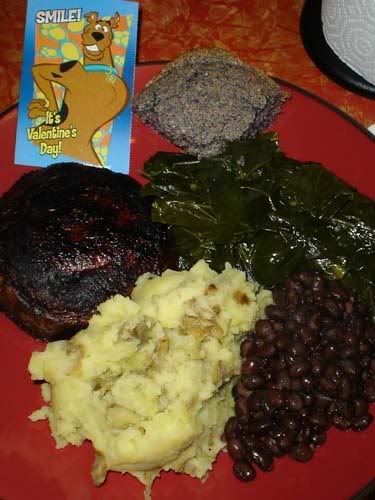 Our Valentine's Day Dinner. Nothing too fancy but I guess the blue cornbread is a little on the exotic side ;-)

Here we have a marinated portabella steak with all of the fixins. Each steak was marinated in a sandwich bag with olive oil, balsamic vinegar, sage, oregano, garlic and a little salt for about an hour before being seared in my beloved cast iron skillet. The rest of it is pretty straight forward organic goodness. The collards were freshly chopped and boiled with a little Celtic sea salt. When they are cooked and I turn the heat off, I drizzle a little flax oil into the water for extra nutrients and taste. It makes a big difference! The potatoes are mashed with a little sea salt, Earth Balance and rice milk. The beans are from a can :-) I always season my beans with garlic powder and cumin. Nothing more, nothing less.

My daughter is crazy about Scooby Doo so we added the card for a little bit of flair!

Hope you all had a great day. I am getting a Soymilk maker and I couldn't be happier! That will provide for plenty of ammo for the ol' food blog!