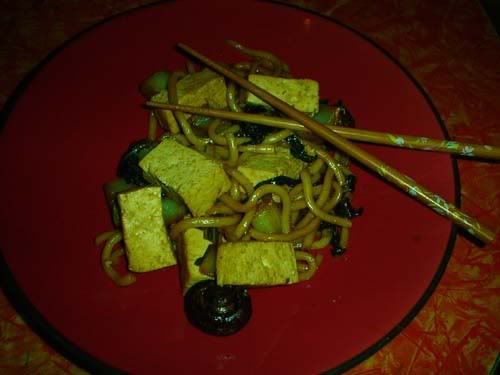 This dinner literally takes 20 minutes or less to prepare! I always try to have a few packs of udon noodles on hand in my fridge because they are already cooked and you can do so much with them!!! Throw them in soups or stirfry and add whatever you want!

Not all udon is created equally so read the package before you buy!

The special for tonight is udo stirfry with tofu, bok choy and mushrooms. I have some Turkish friends who refuse to eat bok choy because bok is the Turkish work for shit. Oh well, their loss! It is a fantastic veggie!

If you are blessed to have a Trader Joe's near you, you may or may not have noticed the Exotic Mushroom Blend in the produce section. It is less than four dollars and you get three different kinds of fresh mushrooms. I can usually use one pack two to three times. I saw on a cooking show a while back that you are not supposed to wash mushrooms before cooking them! I simply brush them off a bit and go to town.

I choped the choy and cooked it in a skillet with shoyu, garlic powder and white pepper. I added the mushrooms once the greens cooked down a bit. A few minutes later, I added the noodles and another shoyu splash. In a seperate pot, I browned the tofu a bit and then tossed it in with the rest of the gang in the other pan.

That's it. It is way more complicated to clean up after than it is to cook!