One of my resolutions for the New Year was to revive the food journal. Well, it's only the first week of February so I think I squeaked past with barely any time left for it to count! ;-) Survey says?

For the better part of last year, I had to get a job which left me NO time to prepare anything other than beans and rice with prepackaged Trader Joe's Indian Fare. But then we had to move so my hubby [I got married since the last post too ;-)] could start a new job and now I am a SAHM again with much more time on my hands. It's a good thing too because this post took the entire weekend to pull together!!

Unless you live under a rock, you all know about this thing called the Superbowl that took place over the weekend. I decided to make a slew of yummy vegan junkfood for a house full of omnis. Vegan or not, you can't go wrong with stuff that is bad for you.

The menu: agave mustard wings, hot wings, Nate's meatless meatballs with dipping sauces [marinara and BBQ], polish sausages with homemade sauerkraut, pigs in a blanket, seven layer taco dip. For dessert, we had three different cuppers from Vegan Cupcakes Take Over The World. Buy this book if you haven't already!!! It rocks. We had the banana split, the Elvis version of the banana split and the agave cupcake with super natural agave icing. My mother-in-law is diabetic and I wanted her to have something special. They were definately great. They had a caramel cake type of taste to them which I really enjoyed.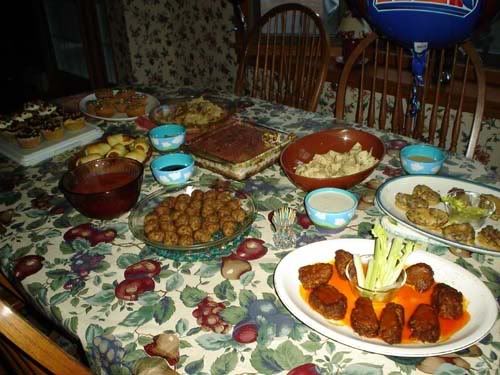 For the piggies, I used Yve's Smart Dogs because they really are the best. I used Tofurkey brand Kielbasa sausages. I love bratwurst and these taste more like it than the ones that are labeled as bratwurst. The layered dip consisted of a can of refried black beans, spanish rice, the Smart Deli taco crumbles [first time trying that and it was reasonable], homemade silken tofu sour cream, a can of green chilies [although the can was small, it was the perfect amount], homemade quacamole and homemade salsa. The wings and dipping sauces were also made the day before along with the sauces. I didn't make the BBQ sauce, that was one of those Jack Daniel's brand sauces. My mother in law made the sauerkraut and the tomato sauce for the meatballs.

As you can see, we were rooting for the Bears but it was not meant to be. There were some excellent commercials [as was to be expected] and the half time show ruled!! I also thought Billy Joel did an excellent job with the national anthem.

After all of this, I need to remember my other resolution which was to diet and lose weight! ;-)