I was talking to my Oma yesterday on the phone while I was cooking dinner. She asked me what I was making and I basically tried to explain the concept of seitan to her [she's catholic so I had to choose my wording carefully!]. She laughed and laughed at me. I could hear her talking to my Opa and my cousin saying "Avery is cooking up this wheat stuff and trying to make it taste like chicken!" *sigh*

Well, as promised, I did some chicken flavored seitan last night! I was going to make chicken and dumplings but damn if I didn't have a craving for wings so I decided to do that instead. I have done tofu wings in the past but I really wanted to see if it would be better with the seitan. WOW! I was really excited during dinner and I am amazed I didn't give myself a stroke loading up on hot sauce! Gotta love Franks! I used the same recipe for ranch dressing as in the tofu wings post. The best part about these wings is that they are boiled and baked instead of fried! I had seen a post on Vegan Lunchcast about seitan wings and he recommended baking them for about 30 to 40 minutes to make them chewier and to give them a slightly crisp outside. I did that and it really did make a big difference! He also has much more in depth seitan tutorial if you check out his blog. He uses a standing mixer though.

We bought three boxes of the wheat gluten so I cracked one open. I decided to get a little creative with it this time and I added a little garlic powder, sea salt and nutritional yeast. I also threw in a pinch of Italian seasoning. When I added the two cups of water, I also put in some lemon juice [one lemon's worth]. For the broth, I used this recipe.
I have it in a jar premade. It works pretty well. I am going to try the Rapunzel boullion cubes next time and see which is better. Instead of cooking two big chunks of gluten, I pinched off little pieces and boiled them. They floated up to the top after about an hour and I took them out. Again, I put them in the fridge to cool off for a bit before I baked them. Here are some pictures...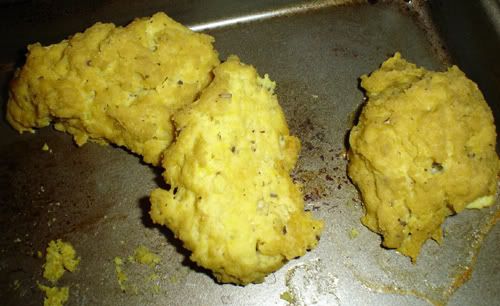 This is a picture of the seitan after baking at 350 degrees for 40 minutes [make sure to SPRAY THE PAN! Trust me on this one!]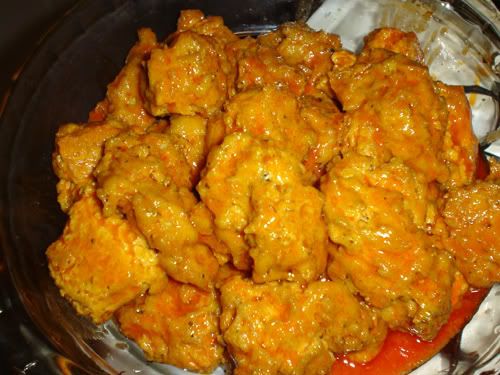 After they were baked and scraped off of the cookie sheet, I dipped them in a mixture of Frank's Hot Sauce [2/3 cup] and melted Earth Balance [1/8 cup]

MMMMMMMMMMMMMMMMmmmmmmmmmmmmmmmmmmmmmmmm

mmmmmm............................


I also tried a little something different! I had some jalapeno peppers that were about to go bad. I had every intention of making stuffed poppers out of them so I decided to give it a go.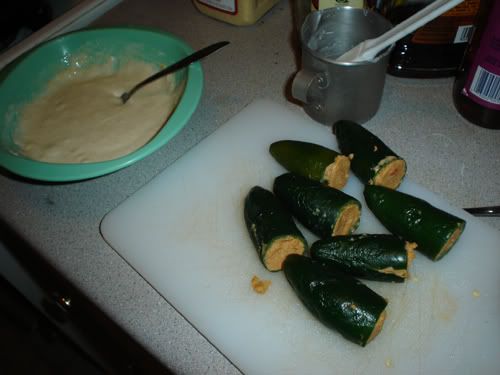 I stuffed them with some
unCheeze
and coated them with batter. I really wanted to bake them and I definately plan on coming up with a recipe for that but I didn't have time to last night so I threw them into some hot canola oil. The batter was a simple mix of Ener-G egg replacer, 'buttermilk' and about a cup of flour.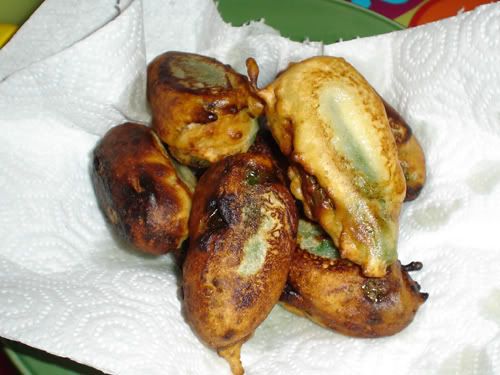 Not bad for the first attempt at Jalapeno Poppers. It needs a lot of work. The peppers were still really crisp on the inside. I also would like to come up with a better dipping sauce than ranch. I would prefer a breadcrumbly crust to batter. Lots of mental notes here. Next time they will probably be completely different but they were still pretty good!


Are we rockin' the appetizers or what?